Public Classes
Class size: 8 students
Instructor: Helen Rennie
Location: Helen's Kitchen at 3 Ingleside Rd, Natick, MA
Cancellation Policy and other FAQ
We are on Vacation
We are on vacation June 19 - 27. Class registrations and gift certificate requests will be processed when we return.
Summer Camp for Teens
Is your teenager (12-18) obsessed with food? Sign them up for our summer camp the week of July 24-28, 2017.
Pizza on the Grill
What can be better than pizza with delicious local produce on a summer day! No need to heat your house by using the oven; pizza is outstanding cooked on the grill. It's one of the simplest dishes to make, and one of the simplest to mess up. Does your dough refuse to stretch into a thin circle? Does it get soggy under the sauce and toppings? Are you at a loss as to how to produce a perfectly crisp thin crust? Does your grilled pizza turn charcoal black on the bottom while remaining raw on top? This class will answer all your pizza questions. You'll make a 5 minute home-made crust that will teach you many baking fundamentals. You'll also make 4 versatile sauces while learning to use heat and seasoning to your advantage. We'll make pizza Margherita (tomato, mozzarella, and basil); pizza with caramelized onions, pears, walnuts, and blue cheese; pizza with pesto, zucchini, and tomatoes; and Middle Eastern flat bread with cucumber yogurt dip. Note: dishes may vary based on the season and availability of ingredients. This class is vegetarian.
One 3h session / $85 per person
Wed, Jun 28, 2017 10am-1pm Register

Knife Skills
Do you get excited about a trip to the farmer's market, but dread chopping all those veggies and herbs? If the onions make you break into tears and you can't remember the last time you sharpened your knife, come to this hands-on class and learn to slice, dice, and mince in a casual and supportive environment. We'll go over which knives are used for which cuts, how to buy a good knife in any price range, as well as sharpening and caring for your knives. And what cooking class is complete without a sumptuous dinner? The meal we'll prepare out of all those veggies might include fennel orange salad, potato leek soup, tomato onion tart, and ratatouille. This class is vegetarian.
One 3h session / $85 per person
Wed, Jun 28, 2017 6pm-9pm Register

Sushi, Ceviche, Tartar
No more cucumber rolls! If you love raw fish, but are not sure how to approach it at home, this class is for you. We'll discuss how to find a good fish market, buy the freshest fish, and handle it safely at home. We'll go over which species of fish are safe to eat raw and the best ways to prepare them. You'll learn how to slice the fish, make sushi rice, shape nigiri and maki. Dishes might include spicy tuna maki, assorted sashimi, scallops ceviche, and branzino tartar with apples and ginger. Note: the dishes vary based on the season and availability of ingredients.
One 3h session / $85 per person
Wed, Aug 2, 2017 10am-1pm Register

Spanish Tapas
If having a dinner party stresses you out, come to this class and learn to do it the Spanish way. Break the "appetizer - entree - dessert" mold, and see the world of delicious and flexible possibilities open up. In this class, we'll recreate some of the most famous tapas. Dishes vary with the season and availability of ingredients, but might include tortilla de patatas (thick potato egg omelette), garlic shrimp, burgers with romesco sauce, and asparagus with serrano ham. Along the way, you'll pick up many useful tips on buying ingredients, prepping ahead, cooking everything to perfect doneness, and composing a harmonious menu.
One 3h session / $85 per person
Wed, Aug 2, 2017 6pm-9pm Register

Grilling Fish and Vegetables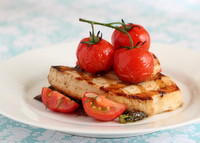 What can be more delightful on a warm summer day than our local striper or bluefish right off the grill accompanied by farmer's market veggies! Unless, of course, half of the fish got stuck, the other half fell through the grill grate, and those zucchini burnt to a crisp. Cooking over an open flame might be the oldest method known to man, but it does require a lot of finesse to master. What fish types are appropriate for grilling? When should you turn the heat up and when down? How do you avoid sticking? When is the fish done? This class will answer all your fish and vegetable grilling questions. We will use a gas grill, but the same techniques apply if you are grilling on charcoal. Dishes might include bluefish with cilantro lime butter, whole branzino with lemon and herbs, swordfish with cucumber yogurt sauce, mustard glazed trout, and assorted grilled vegetables. Note: the dishes vary based on the season and availability of ingredients. This class is Paleo friendly. Rainy day policy.
One 3h session / $85 per person
Wed, Aug 9, 2017 10am-1pm Register

Peruvian Cooking (Ceviche and Beyond)
Move over France, Italy, and Spain—there is a new kid on the block! Where do the best chefs in the world go to eat and get inspired? Peru! Peruvian cooking combines the best traditions of indigenous, Spanish, Japanese, and Chinese cuisines. This class will open your eyes to the fascinating culinary crossroads that form contemporary Peruvian cooking. You'll learn how to choose the freshest seafood, how to shop for unusual Peruvian ingredients, and how to make the fundamental sauces of Peruvian cooking: salsa creola, leche de tigre, and seco base for braises. The dishes we'll prepare might vary with the season & availability of ingredients, but are likely to include ceviche (raw seafood dressed in lime juice), causa wraps with arctic char, and Arroz Verde with Duck (like Spanish paella, but better).
One 3h session / $85 per person
Wed, Aug 9, 2017 6pm-9pm Register

Reviews
Notifications
Want to know when new classes are posted?
Follow us on Facebook
Frequently Asked Questions
What happens if I have to cancel?

Please see our cancellation policy for details.

How do I get a spot? Whenever I check the website, the class I want has a waiting list.

Read our tips on getting spots.

The class I want to take is full. Will you offer it again?

Yes. Most of these classes are offered on monthly basis and are announced 2 months in advance.

Can you send me e-mail when you announce more classes?

Yes. Just send us an e-mail to get on our mailing list.

Do we just watch or do we get to cook too?

All classes are hands-on, so everyone gets to participate.

Should we come hungry?

Yes! A full meal is included in each class except for baking classes that are not held at meal time.

Are gift certificates available?

Yes. Fill out the gift certificate request form to purchase one.

What materials should we bring to class?

Wear comfortable shoes--you'll be standing on your feet for 2-3 hours. We'll provide everything else.